Fire Roasted Salsa
from Harper's Restaurant Southpark
Fire Roasted Salsa
Posted: 06/26/2014
INGREDIENTS:

3 Roma tomatoes, remove core
½ yellow onion, remove skin
1/2 cup roasted red pepper, canned
1 tbsp. balsamic vinegar
1 tbsp. tomato juice
1/8 cup spicy bloody mary mix
1/4 cup tomatillos, canned, no juice
1 tbsp. fresh lime juice
1/4 ea. chipotle pepper (very hot, be careful !!)
¼ tbsp. roasted fresh garlic
½ tsp. kosher salt
½ tsp. cumin
½ tsp. coarse ground pepper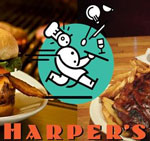 INSTRUCTIONS:

Roast romas and onions on grill until soft and lightly charred. Add all other ingredients and blend until smooth in food processor. Best when served room temperature.
Cook Time: